Founded in 2005 in Changhua County, central Taiwan, Hung Ta Garden Enterprise Co., Ltd. is a burgeoning company of gardening accessories and tools with decades of experience.

Hung Ta has total production capacity and conscientiously carries out strict tests in line with international standards on all finished products before shipment, helping customers accelerate launching new products.

Additionally, the company also boasts consummate metalworking skills that can turn customers' drawings into marketable products with high precision, thus becoming renowned among international buyers as a trustworthy supplier.

The company supplies a wide range of gardening tools and accessories, including sprinklers, spray guns, joints, flat hoses, trigger nozzles, sprinkler stands, misters, coil hoses, brass connectors, fire extinguishing hose nozzles, EVA coiled hoses, multifunctional flat houses, garden lightings, valves, plastic parts, mousetraps, animal traps and rat catchers and so forth. (SC)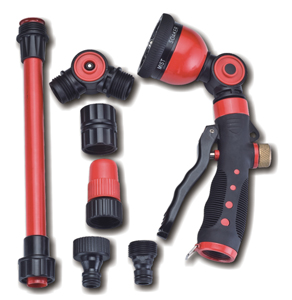 Hung Ta Garden Enterprise Co., Ltd.
No. 22, Lane 1, Changnan Rd., Sec. 3, Ginfin Village, Fengyuan Township, Changhua County 502, Taiwan
Tel: 886-49-252-8280; 252-8281
Fax: 886-49-252-1709
Email: meandu.to@msa.hinet.net
Website: www.garden-supply.com.tw