Taiwan's auto parts exports reached US$6.7 billion in 2018. The U.S is the top destination for Taiwan-made auto parts, accounting for 45.9% of exports while exports to Japan and China placed second and third with 6.25% and 4.17% respectively. Mexico, on the other hand, is ranked as Taiwan's sixth exporting country with an increase of 3.1% compared to the same period in 2017, creating the highest growth since 2011. This growth is an indication of a potential business boom for the industry, thanks to robust performance from auto parts suppliers.

Taiwan's auto parts industry has been in development for over 40 years and thus created a comprehensive supply chain. Due to the prominent ability to design and manufacture, excellent management skills in plants, and flexibility production, Taiwan's auto parts has been exported to Europe and the U.S. for many years. Collision parts (plastic parts, sheet metal parts, auto lamps) manufactured in Taiwan account for approximately 80% of the global aftermarket (AM)- supply. For example, Tong Yong Group, the world's largest manufacturer of AM plastic parts (bumper, radiator grill, outer accessories) and sheet metal parts, account for 70% and 33% respectively in the global market share. In addition, Depo Auto Parts Ind. Co. LTD and TYC Brother Industrial Co. are the leading auto lights manufacturers , accounting 60% to 70% of shares in the U.S., and the European market.

In a bid to help Taiwanese makers expand market reach in Mexico, the Economic Daily News (CENS.com) has teamed up with Taiwan Transportation Vehicle Manufacturers Association to lead exhibitors to attend INA PAACE Automechanika Mexico, including professional engine parts supplier Arco Motor Industry Co., Ltd., , auto sheet metal parts manufacturer Da Juane Industrial Ltd. Co., professional automotive ATV and UTV maker C.V. Joints and drive shafts manufacturer Shing Shing Long Corp., and automotive repairs parts and accessories supplier ANTRC Industrial Corp.

Other include professional manufacturer of industrial-level pneumatic tools Airboss Air Tools Co., Ltd., pneumatic tool supplier Stone Will Co., Ltd., automotive mold supplier Kai Jung Industrial Co., Ltd., automotive connector manufacturer Hu Lane Associate Inc., universal power window manufacturer Zoya Auto Parts Industrial Co., Ltd., gearbox parts supplier Hong Tai Co., Ltd., transmission manufacturers Fitori Industrial Co., Ltd., and customized nuts supplier Ching Lee Industrial Co., Ltd., professional water transfer printing company Cheng Feng Chih Hui Co., Ltd., aluminum alloy wheel supplier Kyo Wa Racing Co., Ltd., alloy wheel manufacturer China Wheel (Jiangmen) Company Limited , leading carbon brush manufacturer Fuji Carbon Co., Ltd., synchronizer rings manufacturer Jiun Mu Enterprise co., Ltd. These quality suppliers will showcase Taiwan's auto parts industry chain expertise, boasting not only products with quality-certifications adhering to global AM standards, but also competitive pricing.

CENS.com will be showcasing at Hall B Booth 2331 and 2333,help in service on-site buyers to understand more about Taiwanese exhibitors. CENS.com booth is also the best location to obtain CENS.com-published guidebooks and trade magazines such as Taiwan Transportation Equipment Guide (TTG), TTG USB for the digital edition and Taiwan Hand Tools. Buyers on-site will be able to obtain the newest reports through the guidebooks and search for suitable Taiwanese suppliers to work with.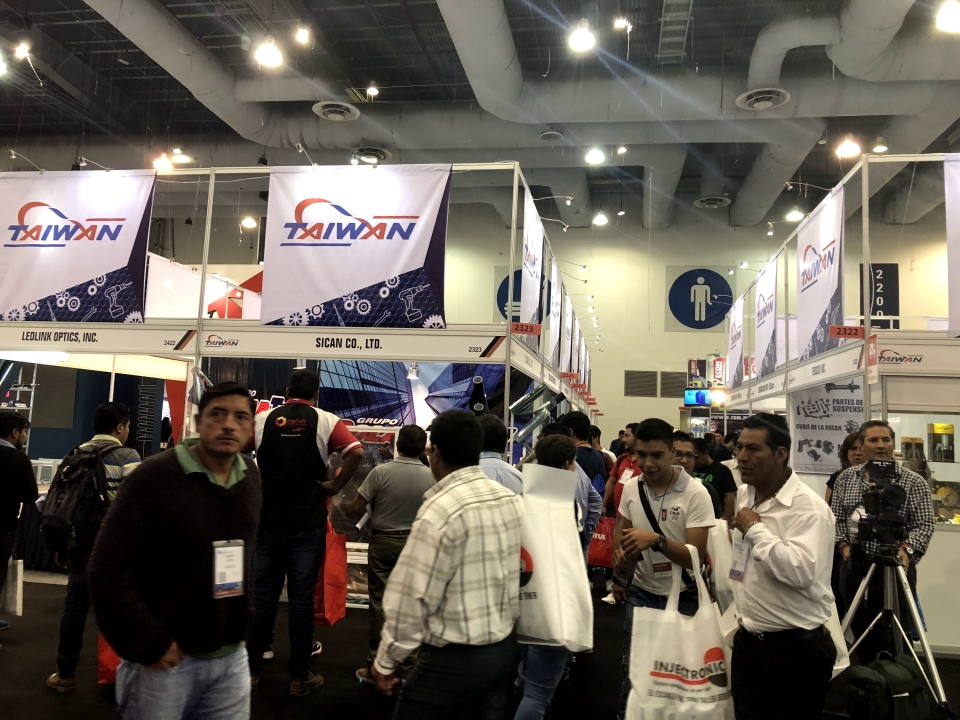 Economic Daily News (CENS.com) exhibits at last year's INA PAACE Automechanika Mexico 2018 (photo taken by CENS.com)